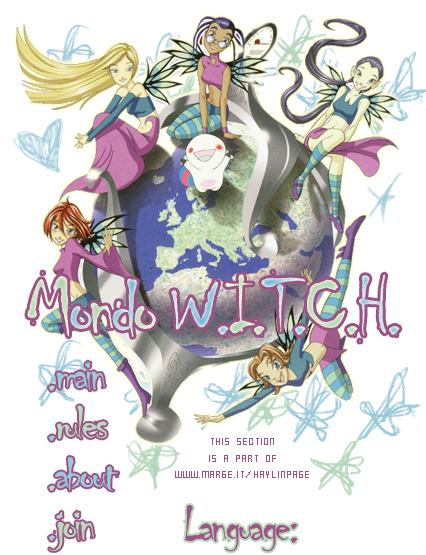 Danish [2]
Dutch [2]
English [6]
Finnish [1]
Francais [2]
Hungarian [1]
Italian [13]
Lithuan [1]
Polish [10]
Russian [3]
Spanish [2]
MONDO WITCH - welcome!
"Mondo" means "World": so I think to call "Mondo WITCH" a directory (that is to say a collection of links) of websites (and groups, forum, shrine, etc) dedicated to W.I.T.C.H., both the comic that the cartoon or the manga.

So here you can find sites from all the world, in any language and of any kind you want.

If you are a webmaster/mistress of a W.I.T.C.H. website, join!

Read the page About to understand how you can add your site here, and before join read the Rules!

I remember you that this idea is a part of Hay Lin's Page and you can NOT reproduce it (or the layout) without my permission.
Planned and realized by Marge.
Layout, graphic and image by Marge.
Do not reproduce without permission.

Last update: 18.06.2008